Wikipedia edit-a-thon celebrates women from Isle of Skye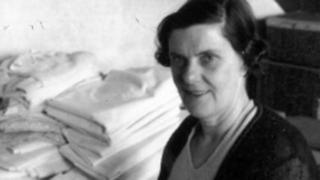 Thirteen new articles about women from the Isle of Skye have been added to Wikipedia to mark 100 years of women's suffrage.
The biographies were researched and written during a two-day edit-a-thon organised by the island's Atlas Arts project.
Among the women added to Wikipedia were Ann MacKinnon and Dr Alexandrina Matilda MacPhail.
Both attended sick and wounded close to frontlines during World War One.
Dr MacPhail, who was born in Knock, Sleat, in 1860 was a physician who graduated from the London School of Medicine for Women.
In 1887 she became a missionary and doctor in India, where she founded what would become a large hospital in Madras.
Under fire
During World War One she worked for the Scottish Women's Hospitals for Foreign Service as a doctor in Serbia and France.
Honours that Dr MacPhail received during her lifetime included a silver Kaisar-i-Hind Medal for public services in India from the Indian Viceroy, and in 1930 she was awarded an OBE.
Ms MacKinnon, who was from Waternish, tended to wounded soldiers while under enemy fire during World War One.
France awarded her the military award the Croix de Guerre for her bravery.
'Amazing stories'
The nurse moved to the USA in 1928 and joined the Frontier Nursing Service.
Ms MacKinnon worked as a hospital superintendent at Hayden Hospital in Kentucky, and was a founding member of The Kentucky State Association of Midwives in 1930.
She died in 1953 and was buried at Wendover, Kentucky.
Shona Cameron, of Atlas Arts and helped to organise the Women of Skye Edit-a-thon, said: "We are thrilled by how well the event went.
"The participants were enthusiastic and really embraced the challenge.
"It was wonderful to see so many new articles created, and people leave with the skills to continue to edit and update Wikipedia entries.
"There are so many amazing stories of women of Skye who have been overlooked or erased from the history books - this was a small step towards addressing this issue and showcasing some of these incredible women and their work."