Body of sperm whale calf washed ashore in South Uist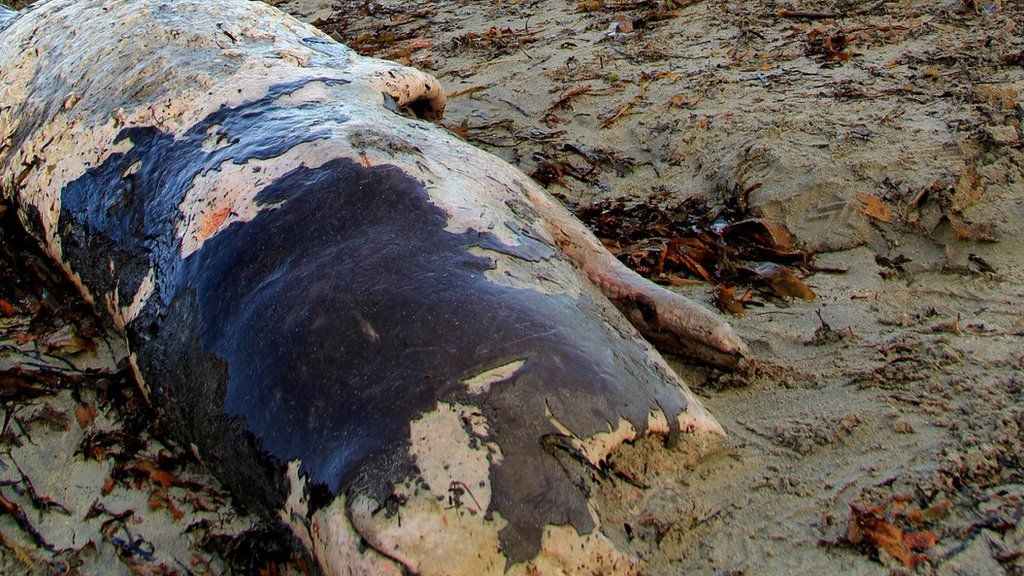 Experts have been examining the body of a newborn sperm whale found washed ashore in the Western Isles earlier this month.
The male calf was discovered by a beach walker on 18 October on South Uist.
An examination found bruising which suggested it was either aborted, stillborn or died during the birthing process.
Sperm whale calves are rarely found in Scotland as the females usually remain in temperate and tropical waters.
Male sperm whales are known to go on large migrations, but the females tend to remain in waters mainly below 50° latitude.
Rana Wood came across the calf while walking along the beach near Kilbride and noticed a large mound of seaweed against the rocks on the high tide line.
Ms Wood said: "There was a small gap in the seaweed and I could see there was some kind of small whale underneath.
"I've found dead marine mammals on the beaches a few times, living where I do, and I'm grateful that I have somewhere to report them to so they can be recorded and not forgotten as it were.
"With this wee one, I had no idea what it was when I reported it. It was only later when one of the local volunteers, Mary Harman, fully uncovered it and was able to identify it. I felt sad especially for the mother, but I am assured that much will be learned from this little whale's death."
The carcass was examined by experts from the Scottish Marine Animal Stranding Scheme, part of Scotland's Rural College.
They concluded the calf died before taking its first breath.
The skeleton has been donated to the National Museums of Scotland to use for their collection.