New guidance issued on unauthorised bike trails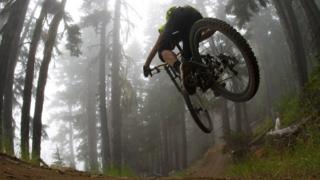 New guidance has been issued to tackle the construction of unauthorised mountain bike trails in Scotland.
The National Access Forum said the tracks could cause risks to the safety of bikers and other land users, and damage the environment.
The organisation said there had been a growth in unauthorised trail building in recent years.
Published by the forum, the guide offers advice to mountain bike enthusiasts and landowners.
It was launched at the three-day Scottish Mountain Bike Conference 2018 in Aviemore.
The forum said that while Scotland's right of responsible access includes cycling, it does not extend to the construction of trails without permission from the landowner.
The guide encourages the need for dialogue between land managers and bikers.
'Fantastic environment'
National Access Forum convenor David Henderson-Howat said: "This guide should provide a useful starting point for land managers and mountain bikers when they sit down together to discuss the potential future for mountain bike trails in the context of their particular circumstances."
SNH chief executive Francesca Osowska added: "Scotland has a fantastic natural environment and we want everyone to be able to share it safely.
"I'm delighted that this guidance has been produced to ensure that mountain bikers and everyone else enjoying our exceptional outdoor space can use it safely and sustainably.
"The process of producing this guidance is a great example of everyone recognising the value of Scotland's wonderful natural resources, the needs of others and the benefits of working together."
Scotland is rated in the top five destinations in the world for mountain biking, according to the forum.
The activity is estimated to be worth £257m-a-year to the Scottish economy and there are more than 40 official mountain bike trail centres across Scotland.