Port of Cromarty Firth to invest £30m in expanding quayside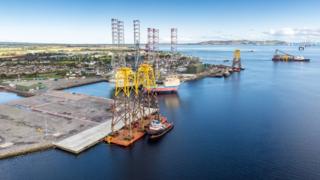 The quayside at a Highlands port is to be expanded at a cost of £30m to accommodate energy projects and the largest cruise ships.
Invergordon's Port of Cromarty Firth said the project to be completed in 2020 would create more than 140 jobs, 25 of them at the site.
It will be the second quayside and laydown area to be built at the port in three years.
In 2015-16, the Port of Cromarty Firth invested £25m in a new quayside.
The new project involves constructing a 218m (715ft) long quayside, and a nine-acre (4ha) laydown area for the handling of offshore wind turbine components or use in the decommissioning of oil and gas infrastructure.
Last week, the Port of Cromarty Firth said it had secured a £10m contract for storing parts needed for constructing the Moray East offshore wind farm.
An expanded quayside will also mean the port will be able accommodate the largest cruise ships currently being designed and built.
Bob Buskie, chief executive of the Port of Cromarty Firth, said the announcement was "tremendous news for the port and the Highlands".
He said: "As a trust port, all of our profits are reinvested in the port's future development.
"We believe this investment will be help bring new work to the area for decades to come.
"This is already starting, with last week's announcement of the Moray East Offshore Windfarm contract."