Seafarers disapprove of 'robotic' coastguard messages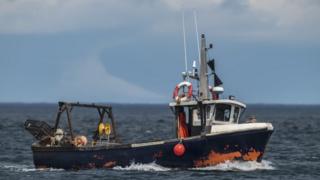 Maritime safety bulletins delivered by text-to-voice technology have proved unpopular among fishermen and sailors.
The radio broadcasts, including weather forecasts, are usually read out by a coastguard officer.
The Maritime and Coastguard Agency (MCA) is trialling the automated system at its Stornoway Coastguard Operations Centre in Lewis.
Local fishermen have described the delivery of the safety bulletins as "robotic".
The MCA said it was committed to providing the "best service possible", and would be reviewing the effectiveness of the technology following the trial.
'Robotic and stiff'
Western Isles fisherman Finlay Macdonald said he did not want to be too critical of what the coastguard was trying to do, but said the system needed to be refined, or the bulletins read out again by an officer.
He told BBC Radio Scotland's Newsdrive programme: "It's a robotic voiceover and nothing like a human voice. It is very robotic and stiff.
"We can make out what is being said but it comes across in a computerised manner and is much harder to follow."
Mr Macdonald said the system was trialled last year before the bulletins were again read by a coastguard officer.
He said: "We had thought that they had scrapped it.
"From the conversations on the quayside it was not warmly received because the bulletins did not have a natural sound to them."
The fisherman added: "It is nice to hear a warm human voice, and not a robot at the other end."
'Universal disapproval'
Western Isles SNP MP Angus MacNeil said there was "universal disapproval" of the system among those who listened to the safety bulletins.
He said: "The MCA have had their trial and it is pretty clear from the reaction to it that the trial has gone far enough.
"I think the MCA should stop now, particularly in the winter period, it has met with universal disapproval and they should simply go back to the former system."
Richard Parkes, the MCA's director of maritime operations, said the agency was committed to providing the "best service possible".
He said this meant looking at new ways of operational working and, when appropriate, embracing technology.
Mr Parkes said: "Stornoway Coastguard Operations Centre has been trialling a text-to-voice announcement system that provides weather and navigation safety information on VHF and MF radio in line with the Global Maritime Distress and Safety Systems.
"As with all trials, the coastguard will review the effectiveness of the automated system to ensure the delivery of a system that supports maritime safety."