Floral tribute to Western Isles' Iolaire disaster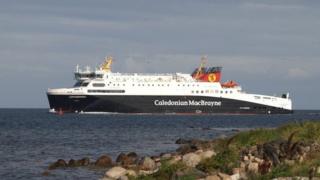 Flowers are to be thrown into the sea by 201 young people from across the Western Isles to mark 100 years since the islands' Iolaire disaster.
The naval yacht HMY Iolaire was carrying home hundreds of sailors after the end of World War One when it was wrecked on a reef near Stornoway.
Many of the 201 men who died were from the isles of Lewis or Harris.
The school pupils will drop the flowers from the Caledonian MacBrayne ferry the MV Loch Seaforth.
The ceremony will form part of a New Year's Day service to remember those who died, the survivors and the families affected by the disaster of 1 January 1919.
Most of those who died were from Lewis or Harris, but many communities across the Western Isles were affected.
The last survivor of the Iolaire - which means "eagle" in Gaelic - died in 1992.
The yacht set sail from Kyle of Lochalsh on the west Highlands mainland on New Year's Eve 1918.
Making its final approach into Stornoway harbour in Lewis on a dark night and in a strong gale, it changed course at the wrong point.
With the lights of the harbour in sight, the ship struck rocks at full speed and immediately began to tilt, filling up with water.
Although the stern of the boat was at one point just 6m (20ft) from land, many of the men onboard were weighed down by their heavy uniforms and were unable to swim ashore.
A public inquiry was unable to establish the reasons for the disaster.