Action plan for fairer delivery charges in Scotland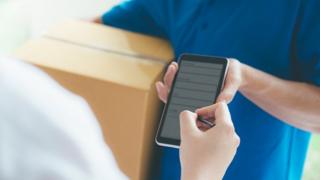 The Scottish government has launched an action plan as part of efforts to tackle unfair delivery charges.
Research suggests that consumers across the north of Scotland pay on average at least 30% more than people elsewhere in the UK.
Unveiled in Inverness on Cyber Monday - the "busiest day" for online shopping - the plan sets out a series of aims.
These include a proposal to map the worst affected areas and share people's experiences of unfair delivery charges.
Other actions include improving the accuracy of postcode classification tools by the end of 2019 to stop accessible locations being mistakenly categorised as rural or remote.
Business Minister Jamie Hepburn said: "Unfair delivery practices are not only frustrating and discriminatory for consumers, they are a barrier to small businesses operating in rural and remote areas.
"We have long called for an end to unfair delivery charges."
He added: "We will also continue to call on the UK government to take action as only they have the power to regulate parcel deliveries."
'Bone of contention'
Derek Mitchell, chief executive of Citizens Advice Scotland, said his organisation was delighted to support the launch and also Scotland's first Fair Delivery Day.
He said: "Far too many people are being ripped off when buying from other online consumers and we want to make sure that people know what to look out for when making a purchase and their rights if something goes wrong."
Margaret Davidson, the leader of Highland Council, added: "Online shopping is of particular importance to remote and rural areas like the Highlands.
"Consumers and small businesses have reaped many benefits from the opportunities the internet has brought but the issue of unfair delivery surcharges has been the major bone of contention.
"To get lasting change we need a national approach which is why we are delighted the minister is with us today to launch this excellent initiative to promote the campaign for fair delivery charges and help bring about the change we need."