Woman dies and daughter hurt in Glen Coe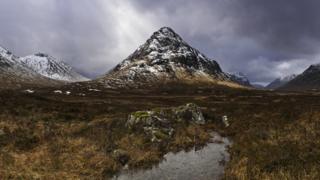 A 52-year-old woman has died and her daughter, 23, is being treated in hospital after they got into difficulty on a hillwalking trip.
Glencoe Mountain Rescue Team and a coastguard helicopter found the women after the alarm was raised at 09:30 on Monday morning.
It is believed the women, from England, had spent the night in the hills between Glen Etive and Glen Coe.
Police are carrying out inquiries into the "tragic incident".
The Press and Journal newspaper said one woman became ill and her mother is thought to have fallen when she went for help.
Glencoe MRT leader Andy Nelson told BBC Scotland that his team had initially been alerted that the daughter was in difficulty.
He said the team found her "very cold and incoherent", but that she gave information which indicated there was a second casualty.
Rescue team members began searching uphill and the coastguard helicopter made a low level search, which led to the mother being found further downhill.
'Tragic incident'
Mr Nelson said he would not speculate on what had happened to the women, but that the daughter had been wearing extra clothing to keep her warm.
He said: "They were both adequately equipped, were below the snow line and had been out for a leisurely walk in the hills.
"The first casualty had been given extra clothing by the second. That might suggest the order of what happened."
Police said the alarm had been raised when a member of the public reported concerns for a woman who had been seen on a path leading from the Lairig Eilde car park towards Buachaille Etive Beag.
The 23-year-old woman is being treated at Belford Hospital in Fort William, where her condition has been described as stable.
Sgt Ross McCartney said: "Our thoughts are with everyone affected by this tragic incident.
"We are currently carrying out inquiries to establish the full circumstances. These inquiries are currently at an early stage.
"I would like to thank Glencoe MRT and HM Coastguard for their invaluable assistance with this challenging incident."