Jenny Graham awarded City of Inverness Medal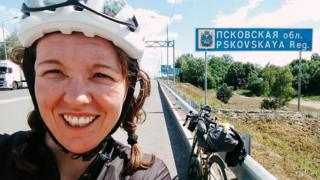 Endurance cyclist Jenny Graham has been recognised by her home city for the record-breaking around-the-world trip she completed earlier this year.
The 38-year-old, from Inverness, circumnavigated the globe by bike in 125 days.
Ms Graham knocked almost three weeks off the previous women's record of 144 days, which was set by Italy's Paola Gianotti in 2014.
She received the City of Inverness Medal at a ceremony on Monday.
Inverness' provost, Helen Carmichael, made the award at a civic reception in Inverness Town House.
Ms Graham started her journey in Berlin on 16 June and cycled for 15 hours a day.
Her 18,000 mile (28,968 km) route took her through more than a dozen countries, including Russia, Mongolia, Australia, Canada, Portugal, Spain and France.
The challenge involved four flights. She finished her adventure back in Berlin.
The furthest Ms Graham had cycled before was from Land's End to John O'Groats.