Capturing the unique rhythm of Scottish crofting life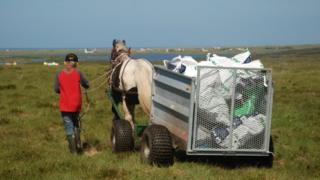 "It's celebrating how people interact and work with each other in a very strong community, rather than competing with one other."
When Beatrix A Wood moved to Uist in the Western Isles she became caught up in what she describes a unique and challenging rhythm of traditional Scottish crofting.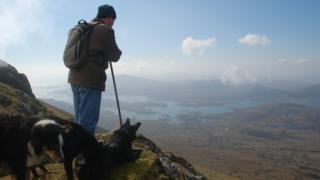 The farmer, photographer and filmmaker began to document farming life on the islands and how age-old methods are being preserved and passed on to inspire and inform young islanders.
This evolved into the three-part BBC Alba documentary San Fhuil/It's In The Blood, which is told using a combination of interviews with islanders and archive imagery, interlaced with footage of South Uist's ancient landscape.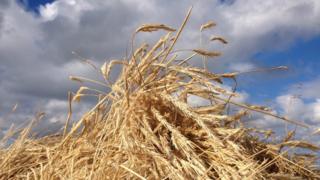 "When I started crofting down on South Uist, I was absolutely fascinated by the way in which the harvest was being done. I just started filming and photographing it," Beatrix says.
"Just to move somewhere with a different climate and different soil, it's a very different way of how you work with this land and livestock. It's a delicate balance of what you can and cannot do with it."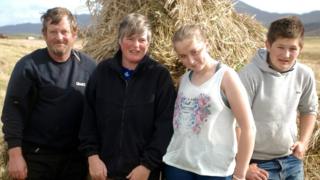 Chrissie and her brother work a croft in the township of Drimsdale and have been passing on their skills to Beatrix's teenage son, Cador, and daughter, Isolde. The family moved from Cornwall when Beatrix's teenagers were young children.
The techniques used by the crofting communities in Uist have died out in some places, but are still very much a way of life for other island and Highland communities.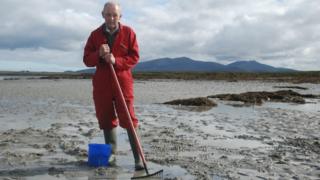 Although Beatrix was behind the camera filming, there were moments when she had to stop and get involved.
During one calving scene a cow was experiencing difficulties so Beatrix set the camera on the floor and allowed it to continue to record while she assisted with the birth.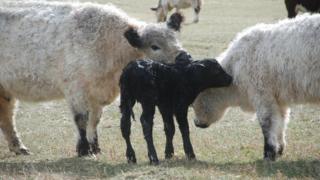 Once the calf was safe she washed her hands and immediately went straight back to filming.
And Beatrix says crofting is not just about working with your livestock and the land, it is about working with your neighbours to help each other out.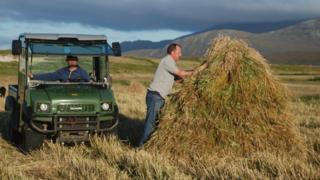 Beatrix says: "When you were farming you were on your own, no-one helped one another. Whereas here, people help each other at all different times of the year on a regular basis."
During the summer the communities of South Uist cultivate parts of the machair - low-lying meadow plains along the coastline - growing crops for feeding the cattle into the winter.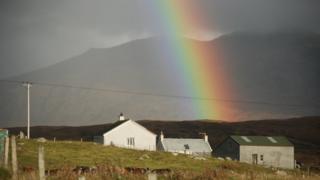 "Each person has strips of land on the machair, so it's not done as one uniform area," Beatrix explains.
The way it is ploughed, cultivated and harvested leaves small areas untouched, where rare corncrake and corn bunting survive, along with the the giant yellow bumble bee.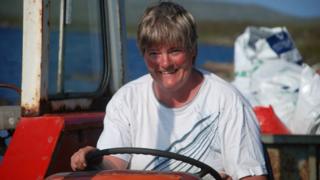 But one of the greatest challenges to the crofters in South Uist also comes from nature, with the growing populations of geese - up from 1,000 to over 9,000 birds in the past 30-years.
Greylag geese feed on Uist's ancient corn seed, which is cultivated for the animals on the croft, and contaminate the fields during the process of their feasting.
The crofters gather seaweed to use as a fertiliser for the seed crop on the machair, one of Europe's oldest indigenous seed varieties.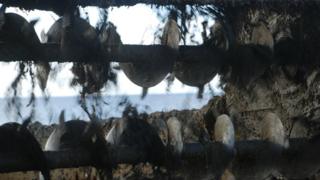 "Year after year it becomes more heart-breaking," Beatrix says. "The geese come in and you just see your crops completely decimated, this winter we have had a very poor harvest after the hot summer.
"It's going to be tough to feed the cattle, everybody has to think carefully how they're going to do that because there's not a profit in it. If the geese are taking away all the hard work that you've put in… it's becoming very difficult."
The series is a personal portrait of a very particular place and of its people, but it mainly focuses on Beatrix's young family. The family hope the documentary captures the raw beauty of the landscape and shows how resourceful the people there are.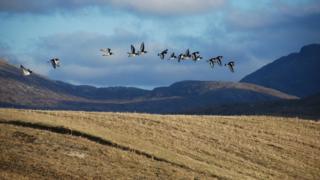 Beatrix explains: "I think it's allowing a sense of rhythm of working through the calendar year and working with a lot of different processes, often with not a lot of resources and using a lot of ingenuity and a resilience to problem solve.
"There are strong links to people's ancestral wisdom. Some things need to be remembered and give an insight into enjoying something that is unique."
San Fhuil/It's In The Blood airs on BBC Alba on Wednesday, 28 November at 21:00 and will be available afterwards on the iPlayer.