Inverness hotel staff shortages 'due to Brexit'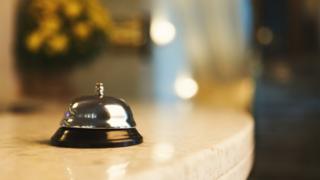 Hoteliers in the Highlands say Brexit has caused a shortage in hospitality industry staff to reach "crisis levels".
Inverness Hotels Association said applications to vacancies from workers in continental Europe were "drying up".
The group of independent hoteliers said there were not enough hospitality degree course graduates to fill the posts.
And they warned that small businesses may be forced to close.
The association represents 80% of the city's hotel provision.
Inverness Hotels Association (IHA) employs about 1,500 staff. Among that number, more than 60 posts are requiring to be filled at the moment.
The association's comment has come amid the release of ONS figures on UK migration, which have remained steady but show a dip in EU citizens moving to the UK.
Inverness Hotels Association has also warned of rising utility costs, an anticipated rates increase and competition from low-cost holiday accommodation providers have put their businesses at further risk.
Chairman Emmanuel Moine said many workers from continental Europe no longer felt welcome in UK, while others faced uncertainty over their status in the UK after Brexit.
He said: "If nothing is done, smaller, independent or family businesses will be forced to close.
"It is already happening, not just in Inverness, across the Highlands. Profit is not there and staffing has become a complete nightmare.
"Since Brexit, CV's coming from Europe have all but dried up."
He said a "domestic workforce" had to be created but added that there seemed to be "a lack of will and poor promotion" of hospitality as a career in Scotland.