Business interest in Sutherland spaceport sought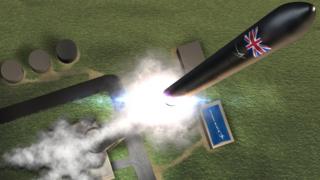 Highlands and Islands Enterprise (HIE) has begun gauging companies' interest in designing, building and operating a spaceport in Sutherland.
Land on the Melness Crofters Estate has been identified as the potential location for the launching of small rockets carrying micro satellites.
The project is opposed by a pressure group whose members include crofting and non-crofting residents.
A planning application for the site could be submitted by the end of 2019.
HIE have published a prior information notice in the Official Journal of the European Union and Public Contracts Scotland in relation to the spaceport project.
A spokesman said: "This notice is about gauging market interest in potential future contract or contracts relating to the design, build and operation of the spaceport.
"It is not a tender process at this stage, however, the responses we receive will be used to inform how best to proceed with the procurement."
If built on schedule, HIE said the site could become the first orbital space launch facility in continental Europe.
The project has been part-funded by the UK Space Agency.
Companies Orbital Express and Lockheed Martin plan to service the satellite launches.