Water work uncovers Middle Ages skulls in Kingussie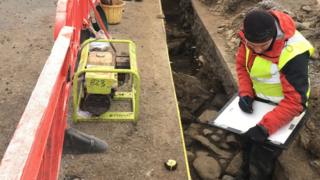 Skulls and leg and arm bones from the Middle Ages have been uncovered in a Highlands village.
The human remains and the foundations of what is believed to be a chapel were discovered during work to lay new water pipes in Kingussie's Mill Road.
It is believed the finds are linked to a pre-16th Century Carmelite friary.
Archaeologist Steven Birch said the "jumbled mass of bones" may have been moved from where they were originally buried to make way for the chapel.
Highland Council had requested that an archaeologist monitor Scottish Water's excavation work in Mill Road because the site was near a known historic burial ground.
Mr Birch, of West Coast Archaeology Services, said the human remains were mainly skulls and the long bones from arms and legs.
Regional importance
He said they may have been disturbed during the construction of the chapel at the Carmelite friary, and then reinterred within the church.
Following an examination, the bones will be placed in the nearby historic burial ground.
The friary is believed to have been founded in Kingussie sometime before the 16th Century.
The Carmelite family is one of the ancient religious communities of the Roman Catholic Church, which first came to Britain in the 13th Century.
Highland Council's convener Bill Lobban said the archaeological finds were of regional importance.
He said: "This is huge addition to the history of Kingussie and we will be watching and learning with great interest as to how these discoveries will expand upon the story of our area."