Winch rescue after Cairngorms climber falls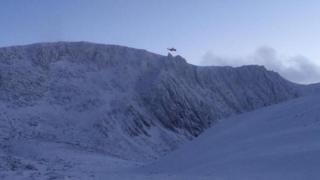 A climber is in hospital after falling in the Cairngorms.
Cairngorm Mountain Rescue Team and the Inverness Coastguard went to the aid of the man, who fell in Coire an Sneachda.
Rescuers said they had been forced to use the full length of the team helicopter's winch cable during the operation on Wednesday.
They said the turbulent conditions meant it was safer to lower an Inverness Coastguard winchman 90m (296ft) to the casualty.
'Trying to land'
He said the winch up to the helicopter must have been the longest two minutes and 55 seconds of the climber's life.
The climber was flown to Inverness' Raigmore Hospital for treatment.
His injuries included a suspected broken ankle.
The alarm was raised at about 16:00 on Wednesday.
Members of Cairngorm Mountain Rescue Team helped the casualty's climbing partner, who was stuck on a crag, to safety.
A spokesman for Inverness Coastguard said: "Trying to land a helicopter in these conditions is just not going to happen.
"Getting any closer to the mountain and we would have risked causing an avalanche.
"It must have seemed like a long time for us to reach the climber but this was the safest thing we could do under these treacherous conditions."
He added: "This was a great team effort between us and the Cairngorms Mountain Rescue Team, who we think are real heroes for bearing the conditions so well and taking the second casualty off the mountain."