Overnight travel warning amid freezing temperatures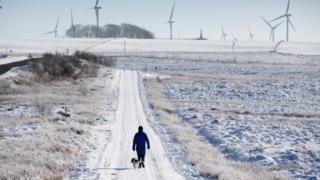 Police have advised drivers across much of Scotland to "travel with caution" overnight and into Friday morning.
The warning comes after temperatures dipped to -14.4C (6.08F) in Aberdeenshire on Thursday morning.
A Met Office yellow warning for snow and ice covers the Northern Isles, Highland, Aberdeenshire and the eastern seaboard.
The areas likely to be affected also include the Borders, East Lothian and much of the Highlands and Islands.
Insp David Hynd said the Met Office warnings indicated that icy patches and some snow could be expected.
"Drivers should therefore exercise extra caution while this is in force, which is between 18:00 tonight (Thursday) and 12:00 tomorrow.
"If you are travelling you should ensure you and your vehicle are adequately prepared for the conditions, making sure you have sufficient fuel and supplies such as warm clothing, food and water in the event you are delayed for several hours."
Drivers were also advised to charge mobile phones, and plan their journey and alternative routes, and listen to media broadcasts or visit the Traffic Scotland website.
The advice came after the coldest temperature in the UK since 2012 was recorded in Braemar, where temperatures plunged to -14.4C.
Loch Glascarnoch, near Garve, in Wester Ross, had earlier recorded an overnight temperature of -13.6C.
The freezing conditions resulted in more than 430 children being given the day off school in the Highlands.
The schools affected were mostly in Wester Ross and Skye.
BBC reporter Davy Shanks posted a video to Twitter showing the River Dee in Aberdeen beginning to freeze after temperatures in the city dropped to minus four.