Air traffic controllers at Hial vote for strike action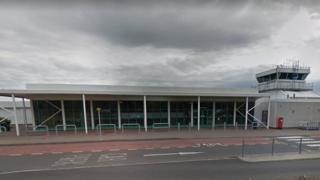 Air traffic controllers working for Highlands and Islands Airport Limited (Hial) have voted in favour of taking strike action in a dispute over pay.
Controllers who are members of the Prospect union rejected a 2% pay offer made last year.
In a ballot, 88% of controllers voted for strike action with 90% backing action short of a strike. The turnout was 86%.
Seven of Hial's 11 airports would be affected by strike action.
They are Benbecula, Dundee, Inverness, Kirkwall, Stornoway, Sumburgh and Wick John O'Groats.
Hial is owned by the Scottish government.
'Significant impact'
Prospect said action was likely to start in April and continue through the summer.
Negotiations officer David Avery said the union's members undertook highly skilled roles that were "much in demand across the UK and Europe".
He said: "But due to public sector pay restraint their pay has fallen significantly behind the rest of the industry.
"Prospect remains ready to negotiate at any point to avoid this action but ministers must come back to the table with a new meaningful offer."
Hial's managing director Inglis Lyon said the company was disappointed controllers had chosen to take industrial action.
He said it was likely to have a "significant impact" on passengers and the communities Hial serves in the Highlands and Islands.
'Generous allowances'
Mr Lyon said: "The Prospect union has sought a double-digit pay award.
"As a government sponsored agency, Hial must follow the Scottish government pay policy. We cannot implement pay awards more than that directed by government."
The Scottish government said it would encourage Hial and Prospect to continue dialogue in an effort to reach an agreement.
A spokesman said: "Hial has implemented a pay rise for all staff, which is a significant improvement on previous years, as well as significantly increasing their contribution to their pension scheme in order to maintain this benefit for employees.
"Staff also continue to receive generous annual leave, sick pay and other allowances.
"In the face of the UK government's continued budget cuts, the Scottish government delivered a distinctive and progressive pay policy for 2018/19 - one which is fair, supports those on lower incomes and protects public sector jobs and services while delivering value for money for the people of Scotland."