Dates set for Hial air traffic controller strike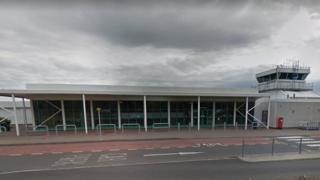 Air traffic controllers working for Highlands and Islands Airports Limited (Hial) are to go on strike on 26 April.
The members of the Prospect union are in a dispute with their employer over their 2018-19 pay offer.
Action short of a strike, including working to rosters and an overtime ban, will start on 1 April and continue to 31 August.
Prospect said it was seeking to agree a protocol with Hial to ensure cover for emergency incidents.
Hial said it was disappointed the action was to be taken by the controllers.
Seven of the company's 11 airports will be directly affected by the industrial action.
They are Dundee, Inverness, Wick John O'Groats, Kirkwall, Sumburgh, Stornoway, and Benbecula.
Hial said it will meet with Prospect on Friday to "explore potential solutions".
Managing director Inglis Lyon said: "Prospect is pursuing an increase in basic pay of at least 10% and has recently sought parity with London airports which is beyond what Hial can offer as we are government-owned and must adhere to the Scottish government's pay policy.
"We are working closely with our airline operators to minimise the disruption of industrial action and apologise in advance for the inconvenience this may cause."