Injured paraglider rescued in Glen Coe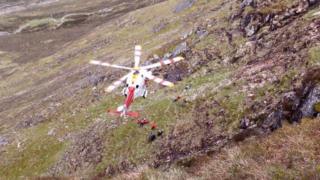 A paraglider was rescued after being injured in a crash into a hillside in the Highlands.
The 36-year-old man got into difficulty in Glen Coe on Monday afternoon and came down on Creag Dubh.
The alarm was raised at 16:30 and members of Glencoe Mountain Rescue Team and the Inverness Coastguard search and rescue helicopter went to his aid.
He was winched onboard the helicopter and flown to a waiting ambulance which took him to hospital in Fort William.
The man injured his left foot, right ankle and elbow.
Helicopter captain George Baird said: "This job was challenging due to the steep ground and narrow gully that the casualty was in.
"The mountain rescue team did a great job of securing the scene and assisting the winchman to stabilise the casualty.
"They also played a key role in helping with the winching operation that made a very tricky job a lot more straight forward."