Hial air traffic controllers reject revised pay offer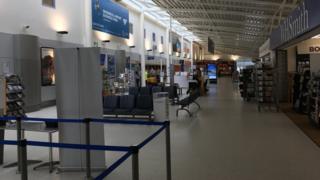 Regional airport air traffic controllers have rejected a revised pay offer in a ballot of union members.
The Highlands and Islands Airports Ltd (Hial) employees began a work-to-rule in April in a dispute over their wages.
The Prospect union members suspended all industrial action while they held a vote on a revised offer from Hial. The action is to resume on Saturday.
Details of the offer have not been revealed, although the union had asked for a pay increase of at least 10%.
'Inevitable disruption'
Union negotiations officer David Avery said: "Prospect will meet with representatives on Monday to consider the ballot result prior to a meeting with Hial on Thursday 4 July to try and resolve this dispute and reach an offer which is acceptable."
Inglis Lyon, Hial's managing director, said the company was disappointed an enhanced offer had been rejected.
He said: "It is unfortunate that the industrial action has been reinstated during the peak holiday period and I would like to apologise in advance to our passengers, customers and local communities for the disruption this will inevitably cause."
Hial is owned by the Scottish government and Prospect had argued that controllers employed in the public sector were paid considerably more.
A 24-hour strike in May disrupted operations at Benbecula, Dundee, Inverness, Kirkwall, Stornoway and Sumburgh.