Tonnes of rubbish cleared from Summer Isles in Highlands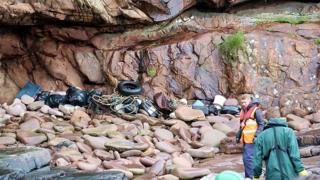 Tonnes of rubbish have been removed from the Summer Isles in the north west Highlands.
Ropes, nets, tyres, metal and plastic were gathered in a clean-up led by the Scottish Wildlife Trust (SWT).
A boat, formerly used as a ferry on a crossing of the Cromarty Firth, has been used to transport up to eight tonnes of waste to the mainland.
The Summer Isles are a group of small islands north west of Ullapool in Wester Ross.
Noel Hawkins, SWT's Living Seas project community development manager, said Scotland had an international reputation for having a pristine, untouched environment.
But he said there were areas spoiled by marine pollution, including the Summer Isles.
He told BBC Scotland: "The Summer Isles are beautiful, and people who sail past them often tell me that.
"But then if you come ashore the beach crunches under your feet. If you dig down you find nets, ropes and material that has broken down into microplastics."
Marine pollution poses threats to both marine wildlife and animals that forage along shorelines.
Mr Hawkins said whales and seals were among wildlife killed after becoming tangled in waste.
In 2017, a seal pup was saved after getting tangled up in a length of plastic net in the Western Isles.
The five-week-old grey seal pup was found on a beach near North Tolsta on Lewis.
David Yardley, local area coordinator of British Divers Marine Life Rescue, and helper Lyndsey Dubberley managed to free the animal.
In the same year, deer on the Isle of Rum were found entangled in lost or abandoned fishing gear.