Tiger dies at Highland Wildlife Park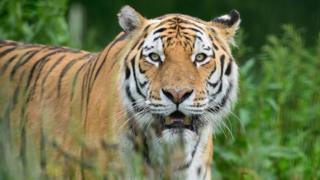 A tiger at the Highland Wildlife Park in the Cairngorms has died.
Marty, the 10-year-old male Amur tiger had health problems and was put down by a vet on Thursday.
The big cat had been at the park at Kincraig near Aviemore since 2012, arriving from a zoo in the Czech Republic.
He was paired with female Dominika and fathered cubs Murray and Vicktor a year later. The park said Marty was "hugely popular" with visitors.
The Royal Zoological Society of Scotland said: "Our thoughts are with everyone who worked with him."
In 2013, Marty had root canal done to a damaged tooth.
Taking more than two hours to complete, the operation involved three veterinary staff, two animal dentists and a dental x-ray technician.
The tiger, called Marty, was anaesthetised for the dental work to a chipped lower right canine.