Corncrakes as a Scottish breeding species 'under threat'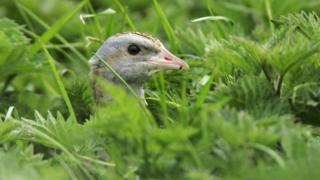 Numbers of one of Scotland's rarest birds remain "alarmingly low", conservationists have said.
Corncrakes migrate from Africa to breed on islands including Tiree, Lewis, Harris, Orkney and parts of Argyll and the north west Highlands.
The birds are counted by listening for the call of males.
RSPB Scotland said 870 males were recorded this summer in the core breeding areas. The figure was down from 897 in 2018.
In the last five years since 2014, when a high of 1,282 calling males were recorded, Scotland's corncrake population has decreased by more than 30%.
What can be done to boost corncrake numbers?
In recent years crofters have been encouraged to take measures to boost corncrake numbers.
European funding to support such initiatives was administered through the Scottish Rural Development Programme.
Practical steps to help corncrake have included:
Delaying mowing and leaving uncut areas of grassland to provide cover for birds
Curtailing grazing to preserve areas of tall vegetation in spring and summer, allowing birds to nest and raise broods
Establishing clumps of tall plants such as iris, nettles, meadowsweet, cow parsley or hogweed
Conservationists say uncertainty over Brexit has undermined such initiatives. RSPB Scotland is currently seeking funding for a new project to encourage corncrake-friendly land management.
RSPB Scotland said while numbers in the Western Isles had increased overall in 2019 compared to 2018, this has been offset by declines elsewhere including overall across the Inner Hebrides in the same period.
The charity said the "persistent low numbers" over the last five years showed corncrakes were struggling and their long-term survival as a breeding species in Scotland was "under threat".
RSPB Scotland has called for funding and other support to help farmers and crofters manage land in ways that improve corncrake habitat.