Kit to aid avalanche warnings erected in Cairngorms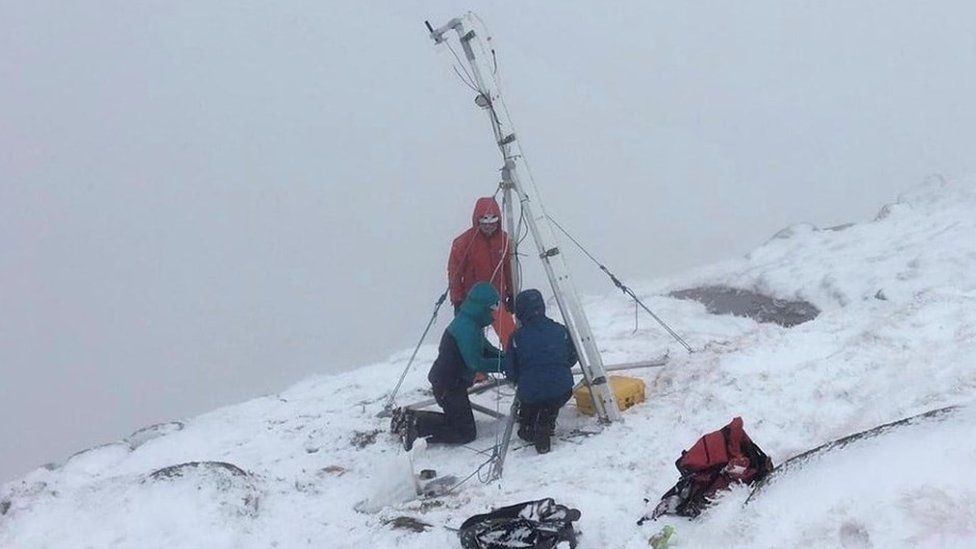 A piece of equipment designed to help Scottish avalanche forecasters has been installed in the Cairngorms.
The technology was made to measure snow depth as well as the rate of subsequent thawing.
The Scottish Avalanche Information Service (SAIS) provides forecasts between December and mid-April.
Measurements recorded by Sams' array would be in addition to information gathered by SAIS forecasters.
SAIS forecasts are used by climbers, hillwalkers and snowsports enthusiasts.
Sams' equipment, which is undergoing tests, was inspired by technology called Snow and Ice Mass Balance Arrays, which are typically used to measure sea ice thickness in the Arctic.
The team was helped by staff from the Cairngorm Mountain snowsports resort near Aviemore to install the kit at an altitude of 900m (2,953ft).
Following successful trials of the array last winter, several are to be erected at locations across the Highlands.
The equipment is mounted on a small mast and gathers information on snow packs, large areas of deep snow.
The data gathered is sent remotely and is available 24 hours-a-day.
SAIS co-ordinator Mark Diggins said: "The objective is to provide additional avalanche start zone information to the SAIS in order to enhance public avalanche reports.
"This will also benefit the SAIS in their ability to remotely access valuable snow stability information, especially during storm cycles and when unable to carry out field observations in high locations due to serious hazard."
SAIS assesses avalanche hazards and provides daily information on the stability of snowpack in six mountain areas.
The areas are Lochaber, Glen Coe, Creag Meagaidh, Southern Cairngorms, Northern Cairngorms and Torridon.
A provisional figure of 124 avalanches were noted by SAIS in 2018-19.
SAIS will officially confirm the number in a report which will be issued later this year.