Coronavirus: Care home boss 'nothing to hide' over Skye outbreak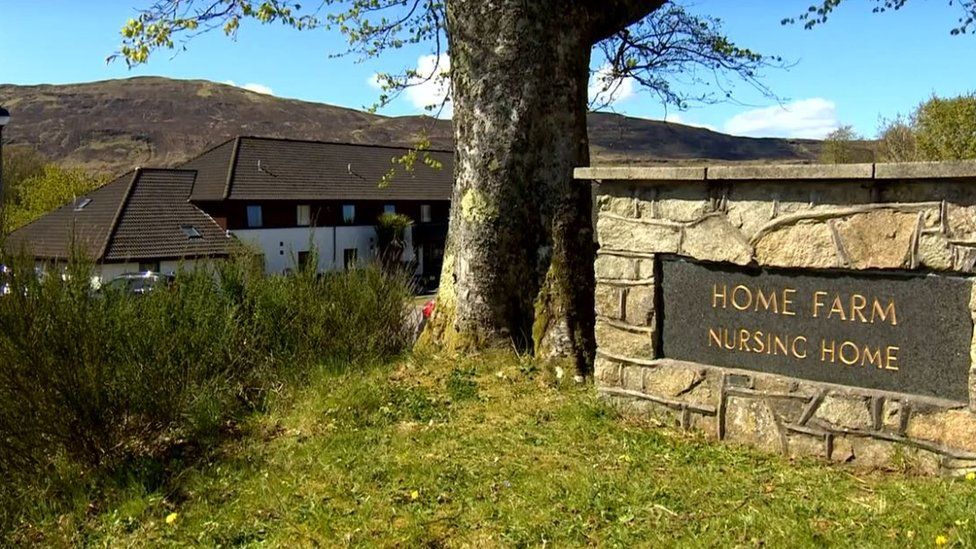 A care home boss has insisted his firm has "nothing to hide" over a major outbreak on Skye that has cost the lives of three residents.
They were among 57 residents and staff at Home Farm care home in Portree, run by HC One, who tested positive for coronavirus.
Sir David Behan also revealed that 10 people died in an outbreak at another Scottish care home run by his firm.
They were all residents at Mugdock House in Bearsden, East Dunbartonshire.
Sir David, HC One's executive chairman, said nine patients were now self-isolating at the care home and three had recovered.
A spokeswoman for Mugdock House said they were supporting the families of those who died and "doing everything we can" to keep residents and staff safe "throughout these challenging times".
He said: "This is a virus which disproportionately affects older people. I don't think the situation that we're finding is due to any questions about the quality of the staff."
The outbreak on Skye - the first confirmed cases on the island - was announced last week, and an Army mobile testing unit has now been sent.
Sir David said the firm - the UK's biggest care home operator - had taken steps to secure protective equipment and began restricting visitors to its premises on 13 March.
Sir David, a former chief executive of the Care Quality Commission in England, accepted that an inspection report in January had highlighted some problems with cleanliness and staffing at Home Farm.
But he insisted an action plan had been drawn up to address these problems and told John Beattie he was not looking "to hide anything here. This is a matter of public of interest".
However, he conceded it had been difficult to recruit permanent staff on Skye.
"In this particular home we have competition from tourism and other industries.
"We have increased salaries... to try to recruit but we've had a large dependency on agency staff because of the difficulty in recruiting staff," he said.
The firm has had to bring in staff from outside the island to staff the Home Farm site, from other homes that have been virus-free, as an increasing number of workers self-isolated.
He said guidance had been followed, but a major problem was that staff could have been asymptomatic and spreading the virus.
"The delay in rolling out comprehensive testing of both staff and residents will no doubt have contributed to the virus being present in care homes," he said.
The GMB union wants an inquiry into the scale of the outbreak at Home Farm - a call which was backed by Scottish Labour's Monica Lennon.
In the Scottish Parliament her fellow Labour MSP Rhoda Grant said one of her constituents had complained weeks ago that staff at Home Farm were not wearing personal protective equipment and staff were being brought in from elsewhere without a proper period of isolation.
Health Secretary Jeane Freeman said there was clear guidance in place on infection control, but not all private providers were complying and a more direct approach may be needed.
Asked about conditions for care workers, Sir David said he backed a wider reform of social care in future and much greater investment in staff, putting them more on a par with nurses.
"One of the issues this virus has exposed is the underfunding of adult social care throughout the UK," he said.