The long journey of the West Highland Way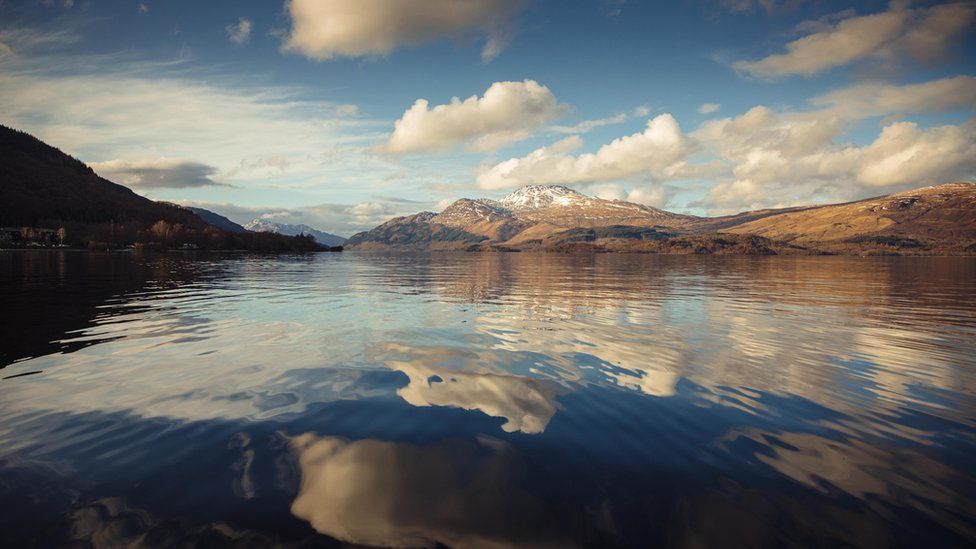 Tens of thousands of people walk the West Highland Way every year. The route is celebrating its 40th anniversary - but the creation of the first trail of its kind in Scotland was itself a long journey.
The West Highland Way starts in Milngavie, near Glasgow, and then winds its way north for 96 miles (154 km) to Fort William in the Highlands.
It follows old cattle drover routes and 18th Century military roads along the eastern shores of Loch Lomond, across sprawling Rannoch Moor, and up the zig-zag ascent of the Devil's Staircase footpath in Glen Coe before reaching its final destination in Lochaber.
More than 100,000 people walk part of the trail each year, about 36,000 of whom complete the whole route.
The journey often takes up to a week. Walkers break the trail into sections and stay overnight in the villages that punctuate the route.
The inspiration for the long-distance walking route came from Glaswegian Tom Hunter.
At the end of World War Two, Mr Hunter - who had served in Africa and Europe with the RAF - was walking up Ben Lomond with his wife Margaret.
He noticed hydro electric construction and other building work taking place on the western shores of Loch Lomond, and began to wonder how the eastern shore could be protected from similar development.
He came up with the idea of an official footpath, and the Hunters began discussing the idea with their local hillwalking group.
But establishing a long-distance walk from Milngavie to Fort William was no easy task. There was the route to be considered, including ways to safely cross some challenging terrain, and they needed to negotiate with landowners.
By the 1970s, the project stepped up a gear and geographer Fiona Rose was commissioned to survey the route.
She is said to have worn out several pairs of walking boots tramping for miles through hills and glens to complete her task.
In 1974, Mr Hunter secured official approval to develop the trail and six years later, on 6 October 1980, it was officially opened.
Hillwalker, writer and broadcaster Jimmie MacGregor was among the first to walk its entire length.
A keen hillwalker since he was a boy, Mr MacGregor was living in Highgate, London, when he read about the opening of the West Highland Way.
During his preparations, Mr MacGregor called up Radio Scotland "on a whim" and convinced its bosses to let him record a radio programme about the new route, including the history, geology and wildlife of the places it crossed.
The trek would mark the start of his broadcasting career.
Mr MacGregor said: "They gave me a radio pack and at the time I didn't realise how expensive it was, I think they cost £4,000, and I had it banging off my boots and stuff.
"I really just blethered to myself most of the way because there was hardly anybody there. I encountered maybe 50 to 60 people."
Mr MacGregor later wrote a book about the West Highland Way, which topped the Scottish booksellers' list - pushing renowned Scottish novelist William McIlvanney into second spot.
"William McIlvanney was a pal of mine and I said to him: 'William I take it you don't talk enough about beetles and buzzards'," Mr MacGregor said.
The broadcaster said the West Highland Way was a great achievement.
"It was the first official marked walk way in Scotland and it has led to so many more, which is a wonderful thing.
Hundreds of people have been marking the trail's 40th anniversary this week.
Covid-19 has prevented events from being held, but a virtual celebration has been taking place online, dedicated to Mr Hunter, who died in 2016, and the many others who helped to establish the route.
Carol Matthews, who has been curating the entries, said the trail meant different things to different people.
She said: "Something that is very special to me, such as a beautiful horizon, might not be to somebody else. They might appreciate a beautiful bridge and its construction.
"I think everybody gets something different from the things that they see."
Ms Matthews said for most people the trail was far more than just a walking challenge.
She said: "I think there is a real emotional and strong sense of spirituality that comes through.
"People have created music, poetry and paintings that have been inspired along the West Highland Way."
And while the route is a week-long expedition for most walkers, the fleet-footed have managed to cover the distance in less than a day.
Ultra-runner Rob Sinclair set the men's record in 2017 with a time of 13 hours 41 minutes and eight seconds, while Lucy Colquhoun's women's record of 17 hours, 16 minutes and 20 seconds was achieved in 2007.
Photos subject to copyright.