Covid in Scotland: How has the pandemic affected Scotland's islands?
By Iain MacInnes
BBC Scotland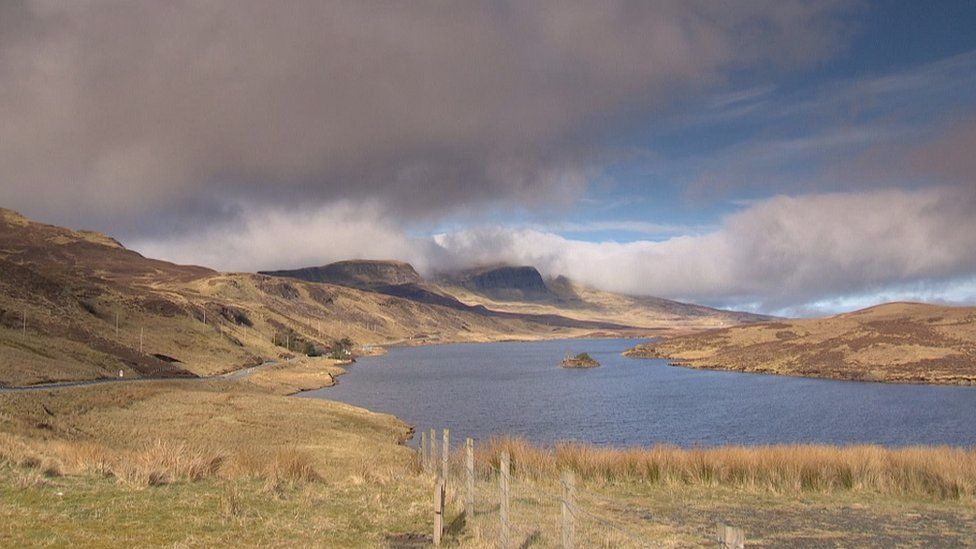 Scotland's island communities have faced difficult challenges over the past year. Covid has caused a collapse in tourism and threatened islanders' health and wellbeing, but there have also been signs of a strong community spirit.
You can see see why they call it Eilean a' Cheò or the Misty Isle. But even on a day when it is shrouded in cloud, the Isle of Skye still manages to show off its stunning beauty.
It has been a different year here than previous ones - quieter and calmer without the thousands of visitors islanders have become so used to welcoming.
But the quiet roads and lack of tourists has led to a huge loss in income for many businesses in Skye.
From new, small emerging companies to older established ones, they are all feeling the pinch. There have been huge increases in those claiming universal credit in parts of the island, including in north west Skye - where numbers have more than trebled.
Morag Hannah, of Skye and Lochalsh Citizens Advice Bureau, said the pandemic had been a "disaster" for Skye's tourism industry, the island's biggest source of income.
She said while there had been a rise in the numbers of universal credit claimants she believed the figures did not reflect the true picture.
Ms Hannah said: "Here in the bureau we are aware of people who haven't claimed universal credit, with some of the known barriers being connectivity, infrastructure, digital skills - and we still have people who are too proud to make that claim."
She added: "You can imagine the income shock if you are a self-employed person running a bed and breakfast on an income of £500 a week.
"Now you find yourself in this situation where you go to make a claim and you are then on an income of £410 a month."
At the heart of this last year has been concerns around the health of our island communities - and how their healthcare systems might cope.
Each island, almost without exception, has had an experience with Covid at some point over the past 12 months - proving that the waters that surround our islands are no barrier to coronavirus.
Barra in the Western Isles was one such place. An outbreak on the isle led to it and neighbouring Vatersay being moved from level three restrictions into a level four lockdown at the end of January.
Local GP Dr Mark Wilcox said: "It was really fast. We went from no cases to 20 cases in just a matter of days, and then up to 55 cases.
"It happened so fast there wasn't much time to reflect on the fact it was here. We were so busy - all hands to the pump.
"Now we are kind of back in this sort of phoney war with some concerns about what will happen once we open up a bit, but perhaps increasing confidence as more and more members of the island get vaccinated."
But from the darkness has come some hope, including a new co-operative launched from Tiree giving islanders across Scotland the chance to sell their products online.
Rhoda Meek is behind the Isle 20 initiative.
She said: "What it shows is the power of island networks and how a lot of islands and islanders are struggling with the same challenges.
"The community that has come out of this is one of the really interesting things, and the model of working together, making together and generating a bit of profit we can put back into our islands."
As each island community opens up at a different pace concerns will emerge, but what makes these communities are the people, and their interactions with others.
The pandemic has brought that into sharp focus and these relationships will be key in the post-Covid world as the islands welcome people once more.