Amur tiger cubs get first health check at Highland Wildlife Park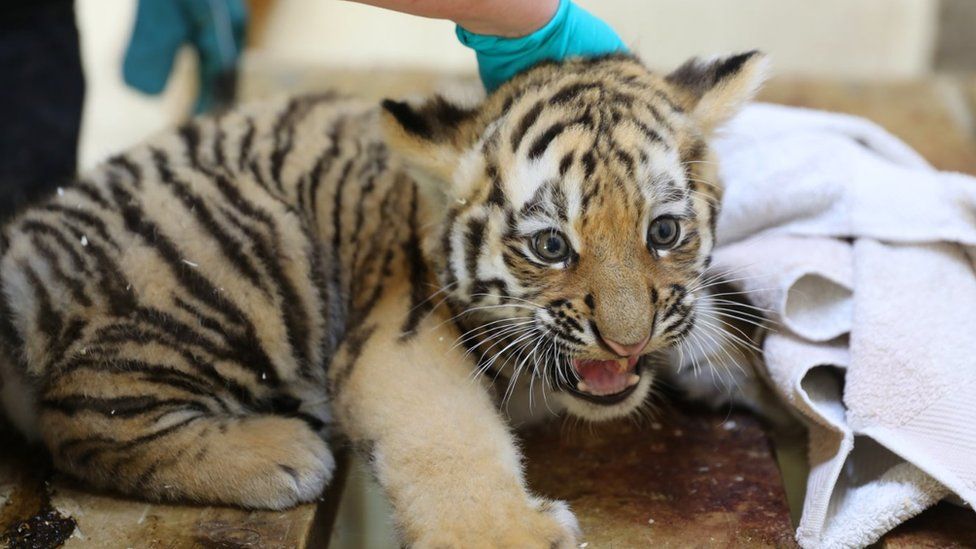 Three endangered Amur tiger cubs have received their first health check at Highland Wildlife Park.
The Royal Zoological Society of Scotland (RZSS) revealed that the cubs, born in May, are two females and one male.
Veterinary staff who carried out the checks said all three were doing well.
The nine-week-olds are being kept in a cubbing den at the Kincraig park with mum Dominika and will be named soon.
The cubs' father Botzman will be gradually introduced to them as they grow older. Highland Wildlife Park visitors can see him in the outdoor viewing area.
Botzman fathered three cubs at Whipsnade Zoo in 2018 and arrived at Highland Wildlife Park last October.
The RZSS, a wildlife conservation charity which runs the park, said there were only 500 Amur tigers remaining in the wild.
The tigers are now only found in isolated populations around the Amur river valley in the far east of Russia and on the north-east border of China.
RZSS has supported tiger conservation in Nepal by developing methods to evaluate tiger diets within the its WildGenes laboratory based at Edinburgh Zoo.