Trident trawler widows make inquiry move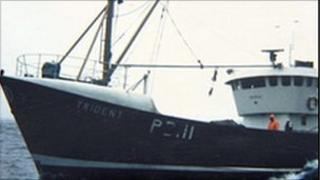 Widows of the seven men who died in the 1974 Trident trawler disaster are to hand in a written submission to the sheriff in charge of the inquiry into its sinking.
The group withdrew from the inquiry, which ended this week, over a row about a report into the vessel's stability.
They have already delivered a verbal submission in front of Sheriff Principal Sir Stephen Young.
The trawler was heading home to Peterhead when it sank off Caithness.
One of the men's widow's, Jeannie Ritchie, told BBC Scotland they had written a submission to ensure their views were on record.
"We have it verbally but because the office of the advocate general has closed down the website that you can look into the minutes of the court, we cannot see that it has been noted in the court's submissions," she said.
"So for that reason we want to make doubly sure that the sheriff principal has taken note of the submission we gave."
During the inquiry the QC for the Advocate General said the probable cause of the Trident's sinking was a sudden catastrophic capsize, and there was no reliable evidence the loss was caused by deficiencies in design stability.
That has been strongly contested by the widows of the lost men.
The inquiry has so far cost £6.2m. Sir Stephen is expected to report his findings within the year.