Options for rogue traveller camps in Aberdeen explored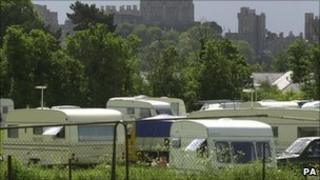 Options for dealing with rogue traveller camps in Aberdeen are to be considered at a public meeting.
It comes after a number of unauthorised settlements on Riverview Drive in Dyce in recent months led to concerns being raised by nearby residents.
The event will take place in Dyce Community Education Centre on Thursday evening.
Hundreds of travellers who gathered for a religious convention are set to leave the city.
Local councillor Mark McDonald said of the public meeting: "I hope folks will come along to the event and have their say, this is about trying to find a constructive solution and I am sure most people will want to see the options and make comment."
The five-day religious convention coming to an end on Thursday was organised by Christian group the Light and Life Missions.
The organisers held meetings with the city council and Grampian Police ahead of the convention.