Historic Bridge of Keig repairs under way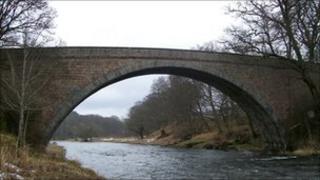 Eight weeks of work to repair a historic Aberdeenshire bridge is getting under way.
The listed Bridge of Keig, near Alford, will be closed to traffic for two months from Monday, after approval for the project from Historic Scotland.
The bridge had suffered structural damage to its walls and road surface during sustained winter weather.
Aberdeenshire Council said steel anchors would be inserted to reinforce the 183-year-old structure.
The work, costing £150,000, is due to be completed by 17 September.