Twins whose mother refused chemotherapy start school
By Ken Banks
BBC Scotland, North East and Northern Isles reporter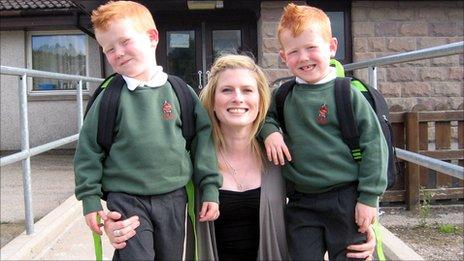 Twin boys born after their mother turned down chemotherapy for leukaemia while pregnant have started school.
Vanessa Love, of Westhill, Aberdeenshire, was told she had the disease after discovering she was expecting two children.
Mrs Love turned down chemotherapy, to protect her unborn babies, Blake and Rohan who arrived in 2005. She then began her chemotherapy, and is clear.
Mrs Love told BBC Scotland: "To see them starting school is amazing."
Former medical receptionist Mrs Love found out in October 2004 that she was pregnant.
Then in January 2005 she discovered that she was expecting twins.
However, just four days later, routine tests gave a diagnosis of leukaemia.
Despite the risks to herself, she decided not to have chemotherapy and instead took remission drugs as she wanted the best for her unborn babies.
She had to be taken into hospital in Aberdeen at 31 weeks with stomach pains and feared the worst.
Blake and Rohan were delivered by Caesarean section after surgery on a twisted bowel which had caused the pain.
Mrs Love was believed to have made medical history when she gave birth to the identical boys after turning down the treatment.
Blake was only 3lb 9oz and Rohan, born a minute later, was even smaller at 3lb 5oz.
It would be another two months before the twins could go home.
Mrs Love began chemotherapy after drugs had kept the disease at bay during her pregnancy, and now remains clear.
With husband Charlie they have now proudly waved the twins off to school.
She said: "The boys are completely unaware of any of the fuss they came into the world with.
"It was always the decision we wanted to go with.
"We'll explain it to them one day."
She explained: "It's been a fast five years. This was the dream scenario, to see them starting school after everything is amazing.
Blake predicted school would be fun and said: "It'll be so nice to be there."
However Rohan said: "I love being in my house."
Both twins have bright red hair and blue eyes, and it could be a challenge for teachers to tell them apart in their uniforms and with matching school bags.
However, Mr Love said of his sons: "They are very good at saying who they are."
Mrs Love said the boys are not shy.
She jokingly predicted they could end up as a "Ginger Jedward", referring to the X Factor twins.
The couple have two other children, Amber, 11, and nine-year-old Megan.
Megan has decided she will soon set off to walk Lochnagar with her father in the hope of raising £1,000 for Cancer Research UK, after what her mother has been through.
She said: "She's all clear and making the most of life. She's a great mum and an inspiration to me."
Megan has been in training, and has set up a fundraising page at www.justgiving.com/megan-love.
Related Internet Links
The BBC is not responsible for the content of external sites.