Ferguson Group of Inverurie set to invest £75m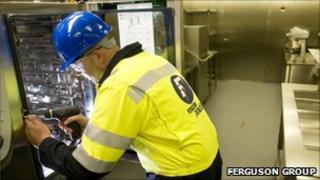 Energy industry support services firm Ferguson Group is poised to invest almost £75m, much of it in overseas operations, over the next three years.
The Inverurie-based company announced its plans as it reported a 20% leap in turnover to £36m in 2009.
Pre-tax profits for last year stood at £13.5m.
The group specialises in renting containers, accommodation and engineering modules to the offshore energy industry around the world.
Managing director Steven Ferguson said the group's growth last year reflected continuing "significant" investment in its rental asset fleets both in the north east of Scotland and overseas.
A "large proportion" of its £75m three-year investment programme would be in further expansion in overseas operations.
Mr Ferguson said: "Our main focus will continue to be provision of a wide range of containers and engineering and accommodation modules at the key logistics hubs that we operate from around the world."
The company is also investing in new group headquarters at Midmill in Kintore, where its module rental business will relocate within the next few months.
Ferguson's manufacturing division will continue to operate from Inverurie.
The group is also spending £20m on its first accommodation support vessel which is currently being outfitted in Port Glasgow and will be available for charter from September.