New checks on safety for ageing North Sea platforms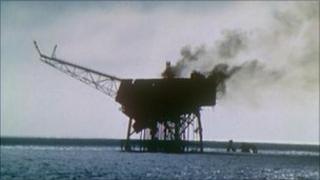 The North Sea's ageing oil and gas installations are to come under fresh scrutiny by safety inspectors.
The Health and Safety Executive (HSE) is to carry out the new programme of inspections to ensure standards are maintained.
The series of checks will run until September 2013, after 40 years of oil and gas production in the UK sector of the North Sea.
Industry body Oil and Gas UK welcomed the announcement.
Steve Walker, HSE's head of offshore safety, said: "The issue of ageing installations is not a new one, and we have been working with the industry to address the risks for several years.
"We are very clear that if installations are going to be used beyond their original anticipated design life then operators need to look to the future and anticipate inevitable consequences.
"The industry and unions are fully behind this programme. They appreciate that well maintained, safe and efficient plant and equipment are vital to ensure the long-term future of the UK offshore oil and gas industry."
Malcolm Webb, Oil and Gas UK's chief executive, said: "We welcome the HSE's latest inspection programme into ageing offshore installations.
"The industry continues to make substantial investment to ensure its installations are well maintained and remain fit for purpose.
"We know that work on safety is never done."