Call for meeting over RAF bases in Moray concerns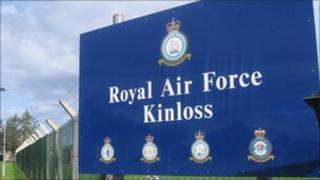 Community leaders in Moray are calling for a meeting with Scottish Secretary Michael Moore over a feared threat to the area's RAF bases.
There are concerns that RAF Kinloss or Lossiemouth could be facing closure.
Their future has been the subject of intense speculation as the government works on a wide-ranging review of Britain's defence capabilities.
Members of a task force set up to resist any closures are writing to the scottish secretary about a meeting.
Moray Council convener George McIntyre said: "Moray has a long and proud history of supporting RAF Kinloss and RAF Lossiemouth and playing its part in the defence of the UK.
"Given that 20% of the Moray economy is defence dependant, the review now poses a real threat to the bases and it is important that the role which both play in Moray is taken into account in any decision-making process.
"What can be said with certainty is that the loss of one or both of the bases would be devastating for Moray and its economy."
He explained: "I will be writing to Michael Moore, the Secretary of State for Scotland, to invite him to Moray to meet the community planning board and provide us with an opportunity to explain to him just how crucial RAF Kinloss and RAF Lossiemouth are to the Moray area."
Dozens of jobs have already been lost at RAF Kinloss due to the withdrawal of the Nimrod MR2, which was taken out of service a year early.