Iceland and Faroe mackerel warning for Scottish fleet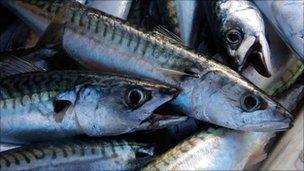 Mackerel quotas set by the Faroe Islands and Iceland governments could be "disastrous" for the Scottish fleet, it has been claimed.
Fisheries Secretary Richard Lochhead warned their quotas were "short-sighted and selfish".
It followed the Faroes declaring a quota of 85,000 tonnes for this year. Previously, Iceland awarded itself 130,000 tonnes.
Mackerel is the most valuable stock to the Scottish industry.
Mr Lochhead said: "Scotland is at the fore of promoting responsible, sustainable fishing practices therefore these unacceptable actions are deeply frustrating for Scottish fishermen.
"Mackerel is one of the most sustainable fisheries thanks to the action that Scotland and other EU member states have taken to successfully manage stocks.
"This is now being put at risk by the irresponsible actions of Iceland and the Faroes."
Bertie Armstrong, chief executive of the Scottish Fishermen's Federation (SFF), said: "It is astonishing that the Faroese have decided to join Iceland by following this same ruinous path.
"Such an increase in catch uptake could have serious implications for the sustainability and overall health of the mackerel stock.
"We urge the Faroese to come back into the fold of sensible fisheries management that they have been part of for the last 30 years."
He added: "Provisional figures show that in 2009 mackerel was worth £135m at first sale value, which represents a third of the value of landings by the Scottish fleet.
"Such an important sector of our fishing industry must not be jeopardised by the irresponsible actions of other nations."
Related Internet Links
The BBC is not responsible for the content of external sites.