Doubts cast over survey of Trident fishing boat wreck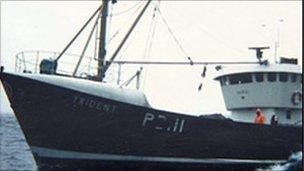 Experts advising an inquiry into the sinking of a trawler have said a survey of the wreck was carried out with a lack of "joined-up thinking".
Seven men died when the Peterhead trawler Trident sank in 1974.
The survey on the Trident, which went down off Caithness, was carried out in the summer of 2006 by Subsea 7.
A panel of experts has criticised the underwater survey. Subsea 7 declined to comment. A sheriff's findings after the inquiry are expected later this year.
A re-opened inquiry began in Aberdeen last year. Part of the evidence included a survey of the wreck carried out in June 2006.
The joint panel of experts (JPE) were so concerned about the quality of the survey carried out by Aberdeen engineering firm Subsea 7 that they wrote to the project manager in charge at the Department of Transport (DoT).
They said Subsea 7 personnel on board the survey vessel the Fennica appeared to be "unprepared and ill-equipped" to remove nets and ropes from the wreck.
Significant time was lost, they said, and there was also a lack of joined-up thinking within Subsea 7 management, and that reporting of operational information to the JPE was evidently a low priority.
They said the management structure was weak and lacking proper hierarchy and the absence of appropriately experienced management on board was "surprising to say the least".
Finally they said functionality of equipment "frequently fell short of all promises and predictions".
BBC Scotland approached Subsea 7 for comment, but they said they had no plans to make any statement at this time.
Jeannie Ritchie, who represents many of the Trident widows, said she feared the survey meant the JPE report had used incorrect measurements to calculate the vessel's stability.
The Office of the Advocate General, which was in charge of the re-opened inquiry, has made no formal statement, but it is understood it believes the quality of the survey was considered fully by the inquiry and is not thought to have had any material effect on it.
The inquiry itself ended last month and the findings are expected to be issued before the end of the year.
Related Internet Links
The BBC is not responsible for the content of external sites.