Shetland Islands Council needs to change, report says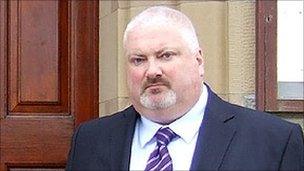 Shetland Islands Council has "serious problems" and needs to change, the Accounts Commission has said.
Scotland's financial watchdog's report follows a controversial pay-off to the council's former chief executive earlier this year.
David Clark left with a tax-free golden handshake of about £285,000 in February.
The report said the council had problems with leadership, financial management and accountability.
The council needs to "address these issues urgently by implementing an improvement programme", the Accounts Commission said.
Council convener Sandy Cluness said he accepted the need for change, and would be working to act on the Commission's long list of recommendations.
The watchdog said it had "serious concerns about how the council has been run".
It found "an absence of clear, decisive and consistent leadership at councillor level and limited evidence of effective leadership from the corporate management team", with direction "made more difficult by significant tensions between councillors and between councillors and officers".
The Commission said the council's approach to governance was "haphazard".
John Baillie, chairman of the Accounts Commission, said: "Shetland Islands Council has taken a positive step towards better working by appointing an interim chief executive, although there is a danger that unrealistic expectations will be placed on him.
"It is essential that the council now pulls together and addresses its shortcomings.
"All councillors need to accept their responsibilities for making sure the council is run properly, with leadership from the convener and effective support from the corporate management team."
The processes used in the recruitment and employment of the former chief executive were also criticised.
Mr Baillie added: "Every council needs to ensure it is run properly, through good governance. But that has not happened at Shetland.
"Shetland Islands Council faces many challenges in the years ahead.
"Shetland Islands Council has serious problems. Councillors and officers need to accept the need for change, to pull together and act quickly and decisively to implement our recommendations."
Dozens of people took to the streets of Lerwick in February to protest over the handling of Mr Clark's departure after his brief nine-month spell in the job.
The Accounts Commission held a two-day public hearing into the affair in June, when it emerged that the bulk of Mr Clark's pay-off had been for personal injury.
Speaking at the time, Mr Clark said the Audit Scotland report was "shoddy, inaccurate and misleading".
Related Internet Links
The BBC is not responsible for the content of external sites.