Call for Aberdeen City Gardens project inquiry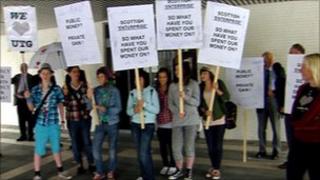 Enterprise Minister Jim Mather has been urged to investigate the role of public bodies in the controversial Aberdeen City Gardens project.
Scottish Enterprise and the economic forum Acsef helped fund the £300,000 public consultation on the future of the Union Terrace Gardens site.
It was then taken forward by city councillors despite the majority of respondents being against the plan.
The minister was handed the letter by protestors calling for a probe.
In May, Aberdeen councillors backed plans for the redevelopment of Union Terrace Gardens, backed by a £50m donation from local oil tycoon Sir Ian Wood, and a £5m donation from an anonymous businessman.
However opinion in Aberdeen has been divided over the proposals.
During a public consultation process, 55% of respondents said they did not want the new square.
The council hopes construction of the square will be completed by 2016, if all goes to plan.