First Minister Alex Salmond calls for mackerel action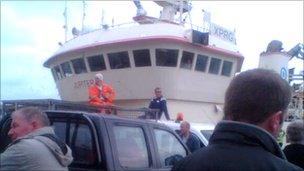 First Minister Alex Salmond has called for political action to end the ongoing mackerel dispute which has angered the Scottish fishing fleet.
A Faroese fishing boat was prevented from offloading its cargo by Peterhead fishermen on Tuesday and had to leave.
It followed a warning that mackerel quotas set by the Faroe Islands and Iceland governments could be "disastrous".
Mr Salmond called for EU pressure to be applied to reach a resolution.
The Faroes has declared a quota of 85,000 tonnes for this year. Previously, Iceland awarded itself 130,000 tonnes.
The Jupiter was met by dozens of protesters at Peterhead harbour in the early hours of Tuesday morning, and later left.
The Ministry of Foreign Affairs in the Faroes said the protest was not acceptable.
Mr Salmond said: "Scotland and Norway share many fisheries interests, a number of North Sea stocks are jointly managed and shared.
"We are in complete agreement that the governments of the Faroe Islands and Iceland have acted irresponsibly and are threatening global mackerel stocks by awarding such excessive quotas.
"I would urge the EU and Norway to keep up the pressure, and hope that a new round of negotiations will begin shortly where we will aim to pursue a fairer outcome for all parties."
Mackerel is the most valuable stock to the Scottish industry.
Related Internet Links
The BBC is not responsible for the content of external sites.