Changes for exhibition and conference centre future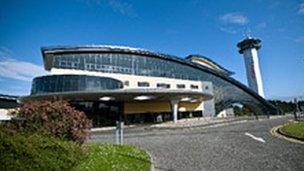 Changes will be made to Aberdeen Exhibition and Conference Centre's board after it ran up more than £2m in costs for a failed hotel project.
The AECC had hoped the four-star development would secure its future.
In a private session, city councillors voted to force the exhibition centre to write off £2.3m development costs for the hotel project.
They approved a grant of more than £500,000 to ease cash flow, and changes to the board.
The AECC has been bailed out by Aberdeen City Council several times in recent years.
Councillors renewed their support for a new hotel at the site in Bridge of Don, and will seek to take over delivering the project.
Aberdeen City Council leader John Stewart said: "The full council reaffirmed its support for the region's major conference centre and its commitment to secure a four-star hotel at the venue.
"However, it has been necessary to re-work the hotel project to minimise risk to the council."
AECC managing director Brian Horsburgh said: "We appreciate the council's position and are reassured by the news that investigations into alternative methods of delivering the hotel will still go ahead."
The centre brings in an estimated £70m annually for the local economy, and is seen as vital to Aberdeen's status as an energy capital and host of Offshore Europe.
Related Internet Links
The BBC is not responsible for the content of external sites.