Funeral of three 'beautiful' Riggi children held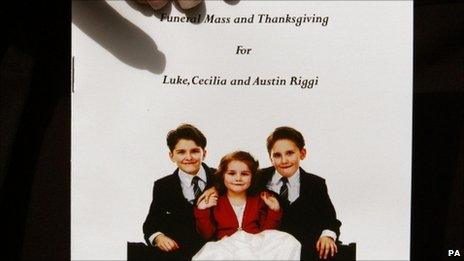 A funeral service for three children from Aberdeenshire who were allegedly murdered by their mother in Edinburgh has taken place.
Twins Austin and Luke Riggi, eight, and their sister Cecilia, five, were found dead on 4 August, after moving from Skene to the capital.
Their mother, Theresa Riggi, 46, has been charged with their murder, but has not yet made a court appearance.
A Requiem Mass was held at Aberdeen's St Mary's Cathedral.
With bells tolling, three coffins were carried to waiting hearses after the service.
The cortege, watched by people flanking the route, then left for a private cremation.
Bishop Peter Moran said of the service: "A funeral mass is much more than just a memorial, because we believe in resurrection we also look forward. We comfort each other.
"When we think of the children we trust in God.
"Everybody is very shocked by the deaths of these three young children. They worshipped here. We are pleased that they have their extended family with them."
The family asked mourners to make donations to the Reverend Gordon Trust Orphan Fund, instead of flowers.
The death notice published in a local paper earlier this week described the children as "much loved".
It read: "Some people come into our lives and quickly go.
"They stay in our lives for a while, leave footprint on our hearts, and we are never, ever the same."
Speaking last week, their father Pasquale Riggi described the trio as a "beautiful blessing".
He said: "We were so blessed, the memories we have will forever provide joy."
Mr Riggi said he had been "paralysed with grief".
The children were found in a flat in Edinburgh's Slateford Road.
California-born Mrs Riggi was found badly injured and has been receiving treatment in hospital.
It is not yet known when she could make a court appearance.
Related Internet Links
The BBC is not responsible for the content of external sites.