Weak cuckoo released back into the wild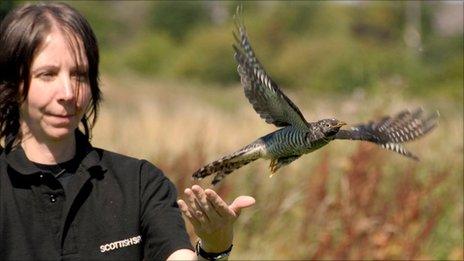 A cuckoo rescued in Aberdeen has been released back into the wild after rehabilitation, in time for its journey south for the winter.
The cuckoo was found weak and thin by a member of the public who took it to vets.
It was then transferred to the Scottish SPCA's wildlife rescue centre in Fife for treatment.
Staff restored the cuckoo back to full strength for the long journey to Africa.
Centre manager Colin Seddon said: "This cuckoo was quite poorly when it first arrived so we immediately provided rehydration therapy followed by a specialised diet, along with its favourite food of meal worms.
"After about 10 days in our care we were happy that it was fit and well and ready for release.
"Cuckoos travel south for the winter to warmer climates so we're relieved that we were able to rehabilitate and release this young bird in time for its migration."
Wildlife assistant Lorraine Gow released the cuckoo, which is a summer visitor to the UK.
Related Internet Links
The BBC is not responsible for the content of external sites.