Girl's cancer charity donations rise after BBC story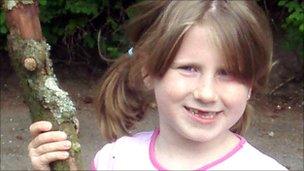 A girl inspired to plan a cancer charity walk after her mother turned down chemotherapy while pregnant has raised hundreds of pounds.
Nine-year-old Megan Love's mother Vanessa is now clear of leukaemia after giving birth to twin boys in 2005.
The boys, of Westhill, Aberdeenshire, started school this week.
She said her mother was an inspiration, and readers who saw her charity plans on the BBC Scotland news website have helped donations reach more than £500.
Mrs Love was told she had the disease after discovering she was expecting two children.
She turned down chemotherapy, to protect her unborn babies, despite the risks to herself.
Mrs Love then began her chemotherapy after Blake and Rohan were born.
Her daughter Megan decided she would soon set off to walk Lochnagar with her father in the hope of raising £1,000 for Cancer Research UK, after what her mother has been through.
She said: "She's all clear and making the most of life. She's a great mum and an inspiration to me."
Megan has been in training, and set up a fundraising page at www.justgiving.com/megan-love.
Donations rose after the story of the twins starting school on Wednesday mentioned Megan's efforts.
One person wrote: "Read your story on the BBC news site. What a very brave thing to do. Good luck."
Another said: "Your mum must be very proud of you."
Mrs Love said her daughter had been delighted with the response, as she tries to reach a £1,000 target.
Related Internet Links
The BBC is not responsible for the content of external sites.