MEP calls for blockade over mackerel wrangle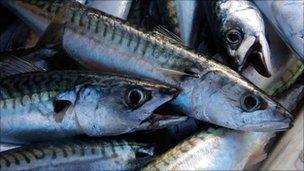 A Scottish MEP has called for an EU-wide blockade of Icelandic and Faroese boats and goods amid a wrangle over mackerel quotas.
Conservative Struan Stevenson said Iceland and the Faroes were "acting just like their Viking ancestors" by "plundering" stocks.
It has been claimed the dispute could have serious consequences for the Scottish fleet.
Last week a Faroese boat left Peterhead harbour after being blockaded.
Mr Stevenson has written to the president of the European Parliament's fisheries committee calling for the Iceland and the Faroes fisheries ministers to be summoned to Brussels for talks.
He said: "So far they have obstinately refused to bring their quotas back down to sensible levels, so I believe the EU must apply maximum pressure to bring them back to the table.
"They need to understand the serious repercussions of this selfish and short-sighted action."
Scottish fishing industry leaders, who have been angered by the situation, welcomed the EU move.
First Minister Alex Salmond has already called for political action to end the ongoing dispute over mackerel, which is the most valuable stock to the Scottish industry.
Dozens of local fishermen had taken action when the Jupiter arrived in Peterhead last Tuesday, and it was forced to leave.
Jupiter returned to its home port, and skipper Emil Pedersen told BBC Scotland its catch would have to go into meal and oil production - costing him more than £400,000.
Related Internet Links
The BBC is not responsible for the content of external sites.