Scottish fishermen 'facing financial ruin'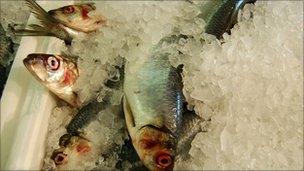 Fishermen in Scotland are facing financial ruin because the numbers of days at sea allowed are running out, it has been claimed.
The Scottish Fishermen's Federation (SFF) is calling for a relaxation of existing management restrictions.
The organisation is calling on the Scottish and UK governments to investigate the hardships being faced.
SFF chief executive Bertie Armstrong said: "Our whitefish fleet can't take any more."
The Scottish government said in a statement said it was aware of the significant economic difficulties affecting fishermen catching whitefish, and was committed to rebuilding stocks.
Meanwhile, Fisheries Secretary Richard Lochhead said assurances had been given by the EU that it wanted to resolve the ongoing mackerel dispute.
The Faroes recently declared a quota of 85,000 tonnes for this year. Previously, Iceland awarded itself 130,000 tonnes.
It has been claimed that this could have serious consequences for the Scottish fleet.
Mackerel is the most valuable stock to the Scottish industry.
Related Internet Links
The BBC is not responsible for the content of external sites.