Aberdeen Airport climate protesters fined £5,000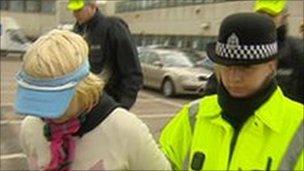 Nine climate change protesters convicted after causing disruption at Aberdeen Airport have been fined a total of £5,000.
Flights were disrupted before police moved in to make arrests at the airport in March 2009.
Campaign group Plane Stupid was seeking to stop any airport expansion, claiming it would raise carbon emissions.
The nine were fined at Aberdeen Sheriff Court, after being convicted by a jury last month.
The group, from across the country, had denied breach of the peace.
The defendants were Mark Andrews, 27, from Edinburgh; William Boggia, 44, from Ballater, Aberdeenshire; Matilda Gifford, 26, Daniel Glass, 26, Emilia Karwowska, 21, Jonathan Agnew, 24, and Josephine Hanson, 25, all from Glasgow; James Kerr, 35, from Paisley, Renfrewshire; and Katherine Mackay, 21, from Shipley, West Yorkshire.
Seven were detained on an airport taxiway five hours after the protest began. Two others, who had been on the roof of the main terminal building, were detained shortly after.
Some of the 350 flights scheduled for the day were affected.
Flights to Heathrow, Paris and Amsterdam were among those delayed.
Fiscal Depute Alan Townsend said the disruption cost airport businesses at least £133,000.
However he said upper estimates, in terms of loss of earnings to airlines and the airport itself, could have exceeded £500,000.
Glass, the group's spokesman, said after the sentence they would be "willing to go to prison" to continue fighting climate change.
He said that despite the costs inflicted on the public purse for the trial to take place, the group felt that their motives vindicated their actions.
An Aberdeen Airport spokesperson said after the earlier verdicts: "This sends out a strong message that the actions of these individuals was not acceptable.
"We fully accept people's right to object to issues such as climate change, and to make their voices heard.
"Demonstrating in this manner however was irresponsible. Had the airport not taken prompt action to by closing the flying operation someone could have been seriously hurt."
Related Internet Links
The BBC is not responsible for the content of external sites.