Road safety event in crash teenager's memory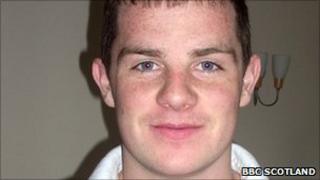 A road safety event has been held in memory of a teenage driver who died in a crash in Aberdeenshire.
Euan Cowie, 18, from Aboyne, died after his car and a van collided on the B977 between Kintore and Dunecht in May.
Relatives raised £1,500 at the funeral, and decided to donate the money to Road Safety Grampian.
His father, Donald, opened a young driver roadshow in Aboyne's Victory Hall on Thursday night.
Mr Cowie told BBC Scotland his son's death would not have been totally in vain if it could help prevent another family losing someone on the roads.
He said: "We would rather meet with the youngsters in a big group situation rather than meeting them at the scene of an accident."
Pc Raymond Neil, of Road Safety Grampian, said: "This is an event tinged with great sadness following Euan's death and - while it focuses on young drivers - we will welcome as many people from the local community as possible, including young drivers, their parents, relatives and friends.
"The impact of serious and fatal road traffic collisions extends far beyond those involved in the collision itself and it's important that we reach as many people as possible with our message.
"The evening isn't just for teenagers and it's important that drivers in their early 20s also realise that they fall within the age-group with such high collision statistics."
One of the presentations was due to be given by Dave Trigger, a driving instructor, who lost his own daughter Dana-Leigh Trigger in a fatal collision on the Inchmarlo to Glassel road two years ago.
He was planning to speak about the impact the 22-year-old Glassel dental nurse's death had on his family.