Minister makes U-turn over Northern Isles ferry cuts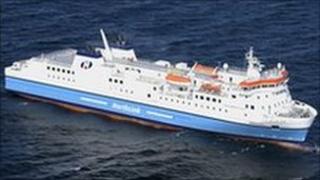 Scotland's transport minister, Stewart Stevenson, has backed down on controversial plans to make £1m of savings to Northern Isles Ferry Service.
He said the cuts were no longer necessary because Northlink had found the savings from its running costs.
The news follows a meeting with the conveners of Orkney and Shetland Island Council on Monday.
They were angry at plans to extend a scheme of cheaper Western Isles fares.
Mr Stevenson said: "The performance of Northlink this year has been much better than expected.
"We aren't going to be looking for the savings we thought we'd need.
"That's great news for the Northern Isles and of course great news for ferry budgets.
"We have found the money internally. That means we won't need to do anything else this current year."
Shetland MSP Tavish Scott said: "I'm delighted the SNP have seen sense and U-turned. People in Shetland rely on these lifeline links and it was shameful for the SNP to play politics with them.'
Orkney MSP Liam McArthur said; "Welcome though this U-turn is, it begs serious questions about the competence of the transport minister.
"In the last six months, Mr Stevenson has tried to slow down our Aberdeen ferry service, removed the lifeline entirely by diverting the Hamnavoe to Bergen and spent weeks demanding a million pound budget cut he now claims is unnecessary.
"Each time, consultation with the councils and communities affected was either an afterthought or a smokescreen."