Doubts over Aberdeen man's death theory in Philippines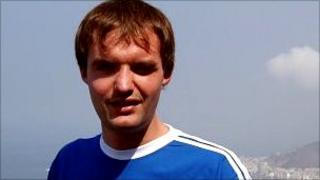 The stepfather of an Aberdeen man stabbed and killed in the Philippines has questioned media reports he went there to marry someone he met online.
John MacDonald, 27, an officer in the merchant navy, died on Sunday.
It has been reported he met a woman he had been in contact with on the internet, before being stabbed by someone said to be close to her.
Gary Gibson said his stepson had been in Singapore and travelled to Manila with the intention of travelling on.
He said the circumstances on how his stepson may have met any woman were unclear.
Mr MacDonald's family described his death as a "tragedy" and said it would leave a gap that would "never be filled".
Mr MacDonald, a second mate in the merchant navy, originally worked on North Sea oil rig supply ships but latterly had worked on international contracts.
He is survived by his mother and stepfather, Joanne and Gary Gibson, of Fraserburgh, and three siblings.