Any Deepwater Horizon lessons 'to be implemented in UK'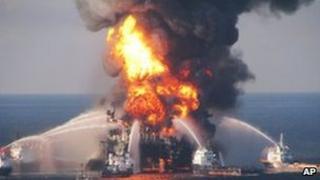 The UK oil and gas industry has said it will implement "any relevant lessons" from the report into the Gulf of Mexico disaster.
A "sequence of failures involving a number of different parties" was to blame for the Deepwater Horizon oil spill, BP said.
The Deepwater Horizon fire killed 11 people and caused the worst oil spill in history.
Industry body Oil and Gas UK said the report would be studied.
BP faces billions of dollars-worth of legal claims for compensation. An estimated 4.9m barrels of oil leaked.
Oil and Gas UK said the industry was already working with its regulators and the trade unions through the Oil Spill Prevention and Response Advisory Group (OSPRAG) which was established in May.
Communications director Trisha O'Reilly said: "OSPRAG has been undertaking a comprehensive review of industry practices and procedures in the UK and BP's report will now form an important part of this work going forward.
"OSPRAG will be keen to identify any relevant lessons for implementation here."
She added: "We firmly believe that the UK industry operates under a robust, fit-for-purpose regulatory regime with almost 7,000 wells having been safety drilled over the last 20 years."
In the 193-page internal report released on its website, BP said that decisions made by "multiple companies and work teams" contributed to the accident.